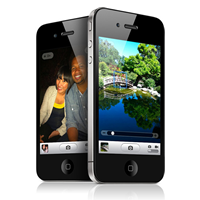 Look around for an iPhone 4 review on the web prior to launch and there wont be a mention of the new-found reported problems with reception issues caused by customers holding their new phones around the outer band of the phone.
One week in and we're already seeing hundreds of disappointed customers reporting that the reception on their new iPhone 4 is dropping quickly when holding their device in the bottom left hand corner. So, whilst this isn't your typical review, it's a brief marketing overview of how Apple always seem to get it so right and, the customers get it wrong. Yes, that's right, the customer has it wrong. But why? Thinktank marketing in Manchester takes a two-minute snapshot look at Brand Apple, for the non-marketer.
First, take a look at how Apple have evolved over the past decade. In the UK, they were once the domain of designers and architects and the music producer who all appreciated the way that Apple 'just works'. In fact, it was rumoured by many that their time was at an end, but how wrong people were in making this kind of assumption. Ten years on, the iPod and IPhone are must-have devices in peoples homes, icons of design and possibly the greatest example of powerful marketing seen by one company in the new millennium.
Whilst we may have had sturdy Nokia handsets in the days before 3G came into its own, smartphone devices have never really been 100% bullet-proof and ask any owner of a non-Apple device and they'll tell you that they have issues with their phones too. The problem is that Steve Jobs and Apple are expected to be 100% perfect. That's what the public have come to expect from Apple and when any of their products fall short of these unrealistic expectations, they complain about it.
Stuart Murphy, principal consultant at thinktank marketing Manchester says, "Prior to 2008, Apple was purely for print-based design in our business. All web and multimedia, except for video, was PC driven. in 2010, everything is Apple, from our company phones, through to systems, because Apple is so desirable that everyone wants one on their desk. The IMac has completely replaced the need for desktops, die hard PC users run parallels on their Macs and there are the big powerhouses for video rendering, digital design and print based jobs too. Personally, I have gone from being a PC champion to a Mac convert."
Stuart understands the limitations of Apple devices, holding off on the newer IMacs until Apple's next update around the end of 2010, however like many experts, he understand the value that the Apple brand brings to his business. Thinktank marketing Manchester has also seen a significant improvement in efficiency and staff satisfaction since switching purely to Apple.
Ironically, PCs are generally used at the client interface, as many clients feel happier when faced with a PC, so at thinktank, Apple hasn't yet managed to make it to client side, though this is planned for 2011.
So, is Apple's marketing brilliant or just brash? the short answer is to look at the sales growth of the company, the success of the iPhone 4, the iPad and iPod and even the new IMac, with its reported screen flickering issues. Whatever the situation, people just can't wait until the next Apple device is launched, with websites dedicated to estimating the time of Apple's next update.
So, Apple is an example of where marketing theory and marketing practice don't meet. Theory would dictate that Steve Jobs and Apple should acknowledge their customer issues, run more extensive beta testing programmes and be more forward in sharing issues with its customer base. However the reality of the situation is that whatever problems Apple has with its products at the moment, the desirability of brand Apple is so powerful, that customers are prepared to explain away issues to friends, implement work-arounds, such as by adding a suitable case to the iPhone 4 and accept Apple word as Gospel, after every release of every single product that the Magical Mr Jobs launches.
There is little doubt that the world needs Steve Jobs' inspiration and Apple's challenging attitude to breaking boundaries, however the question still remains in many marketing experts minds about how long the Apple bubble can last and if and how they will finally lost their competitive advantage in their respective markets. Mr Jobs has been written off before by the critics, however he has made each and every one of them eat their words. And, there won't be one of them who has not seen or used an iPhone, iPad or iPod in their lives too.
With more demand for iPads than a centre final ticket at Wimbledon this year, does it really matter if no-one knows why they should really buy an iPad? Not really, people just want one and judging by the price points, at any cost too.
So, when judging Apple's marketing, bear in mind that the Apple rarely falls far from the tree - you'll always get innovation, expensive prices and you'll get to feel good too. The only issue with Apple is, when will you buy your next one? In thinktank marleting's case, the answer is practically every week!